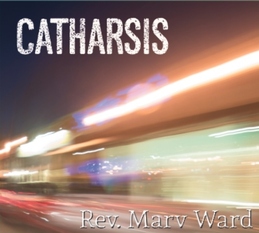 THE NEW CD CATHARSIS IS NOW AVAILABLE
Eight smoking tracks that range from a Freddie King inspired instrumental, Blues-Rock, Americana, to a funky throw down that will get your toes tapping and your head scratching.
Guest Artist include, Shrimp City Slim on piano, Todd Edmonds of The Otis Taylor Band on bass, Mike Fore on harmonica, LJ Errante on mandolin, and Kristen Elaine Harris on fiddle.
AVAILABLE AT CD BABY, I TUNES, YOUR FAVORITE STREAMING MUSIC SITE AND OF COURSE THE REV. HIS SELF!!
contact the Rev. at bluesman1@bellsouth.net
---
Veteran blues guitarist Marv Ward grew up in the small town of Lorton, Virginia. He played his first gig at 10 and started performing professionally at age 16. He's played in literally dozens of bands over the past 45 years and has secured his place among bluesmen with his straight-forward no-nonsense blues style. It's a little bit Delta, a litle bit Piedmont, a whole lot of R&B, but mostly, it's straight up Rev. Marv Ward.

The Rev. has played his original and visionary blues stylings in venues all over the country and has shared stages with music legends such as Aerosmith, Joan Baez, Dave Van Ronk, Paul Geremia, Maria Muldaur, Nappy Brown, John Hammond, Bob Margolin, Big Bill Morganfield, Mac Arnold, Mooky Brill and many more.

"CATHARSIS" his latest CD, and " I Should Know Better" plus
"Love Like You Never Been Burned" his earlier works only hint at the warmth and appeal of this veteran guitarist and his talented band. Expect sizzling Piedmont picking, Delta blues, greasy rags, and straight-ahead rocking urban blues from this South Carolina singer, songwriter, guitarist and poet.